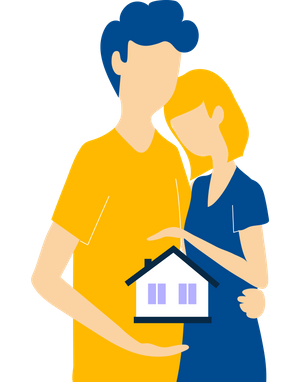 Types of Home Loans
Home loans
Refinance programs
Foreign national loans
Fixed and adjustable rate loans
Reverse mortgages
Jumbo loans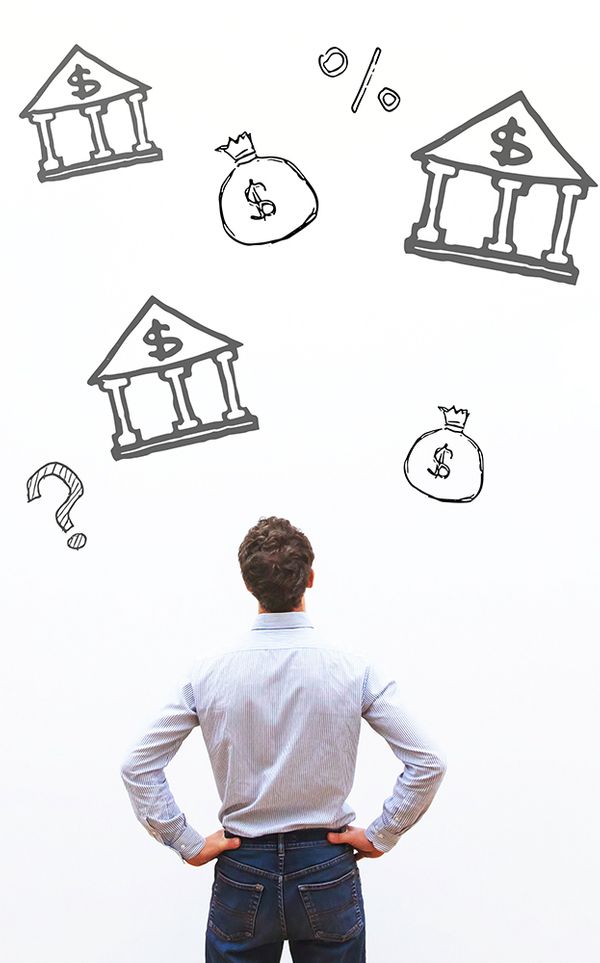 What Does a Mortgage Lender Do?
For those looking to purchase a home with the help of a mortgage, you will need to work with a mortgage lender, as they provide the services that will enable you to get a home loan. However, they can also help you find the best loan options for your future as they guide you through the home loan process. To help ensure you find the best loan for you and your family in the Coral Gables area, work with the home lenders at Home Financing Center.
How Do I Choose A Loan?
Choosing the right loan for you can depend on several factors. First, it can depend on whether this is your first home you are buying (First-time home buyers have options!) or you are requiring other services. It can also depend on the type of property you are purchasing. For example, if you are purchasing a large home or piece of property, you may need a jumbo loan versus a conventional home loan. Also, if you already have a home and home loan but want to lower your monthly mortgage payments, then you may want to look into a refinance program. A mortgage lender can assist you with all of these circumstances and help you have a home mortgage that works for you.
Mortgage Lenders: How Can They Serve You
Making any large financial decision can be overwhelming and even frightening. Buying a home or refinancing is a big financial move with major consequences if done poorly. However, it is also one of the most exciting moments of your life. A mortgage lender can help make sure that you find a loan that is right for you that allows you to celebrate this big moment in your life.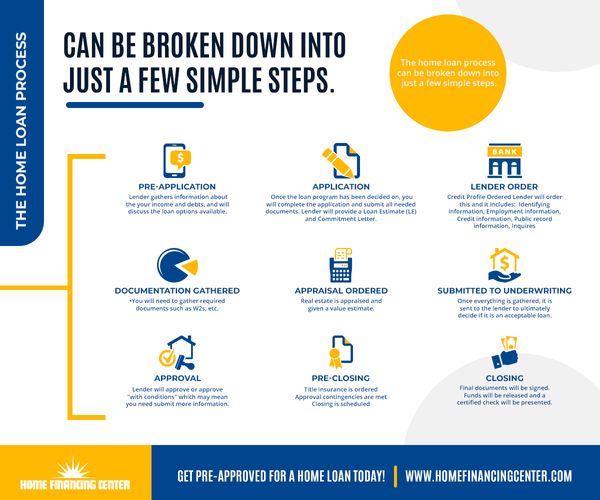 Buying a Home: What You Need to Know About Home Loans
Most people in Coral Gables, Miami, and all of Florida will need a mortgage to purchase a home. A lender can make sure you get one that works for you. Though a home loan can be intimidating, especially due to all of the financial terminology, it is actually quite simple.
The Home Loan Process
Acquiring a home loan is a several step process. However, it can be summed up into these simple steps:
Step 1 - Understanding your financial situation and needs for buying a home
Step 2 - Gathering all necessary paperwork and information
Step 3 - Approval of loan for all parties involved and closing
There are more steps to the loan process: check out the graphic below to learn more about each step of the process.
First-Time Home Buyers
Buying a home at any time can be a big deal. However, for first-time home buyers, it can be immensely more exciting and intimidating. An advantage to being a first-time buyer is there are loans and programs created just for you to help you secure a home loan successfully. Options for you include:
FHA loan
VA loan
USDA loan
Fannie and Freddie
State first-time buyer program
Home renovation loan
Good Neighbor Next Door Loan
Dollar Homes
Adjustable Rate Loans
When you work with our mortgage brokers, we can help you take advantage of the best options for you and can help your dream of owning a home become a reality. As the largest independent mortgage lender in South Florida, we can provide the guidance you need on your journey to buying your first home.
Which Loans Are Right For Me?
There are a variety of loans available to help you buy the home that you desire. A mortgage broker can help you find the best one to match your financial situation and needs.
Fixed-Rate Loan
A fixed rate loan is a common, conventional loan that requires a fixed-interest rate and monthly payment for the entire life of the loan. The life of the loan is usually 15-30 years. A jumbo loan is often a fixed rate loan.
Adjustable-Rate Loan (ARM)
For this type of loan, you will usually enjoy five to 10 years of lower, fixed-rate loan payments. After this period, interest rates and, as a result, your monthly payments will adjust every year to match current interest rates.
FHA Loan
A FHA loan is backed by the government and requires you to pay possibly as little as 3.5% on a down payment versus the usual 20% owed when you purchase a home. Though it provides advantages, this type of loan has set requirements that must be met, such as limited loan amounts, fixed-rate terms, and required mortgage insurance.
VA Loan
If you served in the military, you may be eligible for a VA loan, which can provide advantages such as no down payment and no mortgage insurance requirements. However, you must purchase a primary residence and your new home must meet certain requirements.
Bridge Loan
If you aren't a new buyer and you haven't sold your previous home, then you may be eligible for a bridge loan. The current and new mortgage payments will be bundled together until your home is sold. Once sold, however, you can pay off that mortgage and refinance.
Home Financing Center would love to help you find the best home mortgage for you.
Our lenders are experienced and knowledgeable, ready to help you whether you are a first time home buyer or wishing to refinance your home. Learn more about us and our services on our website.
First Time Home Buyer Tips
Buying a new home is exciting — it might be one of the most exciting life events and investments you can make. However, with the excitement, comes a lot of expectations, pressure, and anxiety. Our mortgage lenders would like to give you some tips to help take the guesswork out of the home-buying process.
Tips For Choosing A Mortgage
The investment of purchasing a new home is one of the most intimidating aspects of buying a home for most first-time home buyers. However, with some tips and Coral Gables Top Rated Local® mortgage lenders at your side, you can proceed with more ease.

Tip 1: Start Saving For A Downpayment
Most types of loans require a down payment. It's common to put 20% down, but a down payment may be as little as 3%. Keep in mind that often the less you put down, you may be obligated to have mortgage insurance which can cost you more in the long run. Start saving as soon as possible. Not sure how much to save, try a down payment calculator or talk to one of our lenders.

Tip 2: Explore Your Options
As you begin looking into the amount you need to make on a down payment, you should also start looking into available mortgage options. There is more than one type of mortgage and each has its advantages. For example, a fixed-rate mortgage offers you predictable mortgage payment amounts. However, an adjustable-rate loan may have fluctuating payment amounts but can offer you a lower mortgage rate if you have a high enough credit score.

Tips 3: Know Available Assistance Programs
There are many federal, state, and local programs that can offer assistance for first-time home buyers — like down payment assistance.
Miami-Dade County Resources for Homebuyers
Florida City (Call 305-242-0861)
City of Miami Beach (Call 305-673-7260)
Tips For The Mortgage Application
Another important step towards buying a new home is the mortgage application process. Being informed about the process and how you can give yourself the best chance at success can give you peace of mind and have the most favorable outcome.

Tip 1: Pause New Activity That Could Affect Your Credit
Your credit score will play a key role in determining the type of loan you will receive as well as your interest rate and even your loan terms. Check your credit score before applying, and find opportunities where you can improve it such as fixing errors and making considerable payments towards any outstanding debts.

Tip 2: Compare Mortgage Rates
Even though we at Home Financing Center would like to say that we have the best available options for you, we also understand that it can be beneficial for comparing possible loans from several different lenders in the Coral Gables area. If you find a better rate, talk to us! We would love to provide you the best mortgage for your new home.

Tip 3: Get a Pre-Approval Letter
Before applying for a loan, we suggest you get a pre-approval letter. This can not only give you an idea of what you can expect for your loan possibilities (i.e. how much a lender will loan you), but also the terms of a possible loan. A preapproval letter can help set you above other possible buyers and give you the chance to improve areas of your finances that might be keeping you from getting a more favorable loan.
Tips For House Shopping
Looking for your new home can be one of the most fun parts of the homebuying process. Not only do you get to see the possibilities for your new home,but you also get a chance to envision your life in your new home.

Tip 1: Hire the Right Real Estate Agent
A real estate agent can make or break your experience. It's important to find one that you enjoy working with and generally get along with. They should be knowledgeable about the area in which you are looking to buy a home and provide you helpful advice for you along your home-buying journey.

Tip 2: Choose Your Next Home & Neighborhood Wisely
It's easy to fall in love with the first home you see — and sometimes that is the right home for you. However, before looking at prospective homes, it is best to do your research. Aspects of your new home and neighborhood to research include:
Nearby schools — even if you don't have kids, they affect home value
Safety and crime statistics
Nearby amenities that are important to you
Homeowners associations and fees
Neighborhood noise, traffic, and activity level
Other factors that could affect your home or neighborhood

Tip 3: Stick to Your Budget
It's important to be thoughtful about your budget and to stick to it. Keep in mind that even though you can afford the amount that you were pre-approved for, you must keep in mind other expenses that you might encounter as a new homeowner. Repairs, improvements, and new furniture costs can quickly eat into your finances. Take all of this into consideration as you are calculating your budget and looking at homes in the area you desire to live in. Remember that a home you can't afford will quickly take away from the joy of owning it.

Tip 4: Get the Most Out of Open Houses
When you start visiting open houses or schedule a showing, it is best to walk in knowing what to look for. Though your initial feelings of walking into a home can be a telltale sign of whether it is the one or not, it is also important to be mindful of other aspects of the home such as:
Overall condition
Smells
Stains
Disrepair
Also be sure to ask about the appliances as well as the HVAC system and when they were last replaced. Do your research and come with a list of questions to get the best perspective on your potential new home.